Online Support
VitourHanoi 003
Hotline: +84-4.62701639

Tours Discount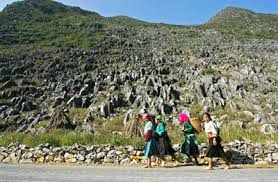 DONG VAN KARST PLATEAU - GLOBAL GEOLOGICAL PARK
Located on an altitude of 1,000m-1,600m, belonging to 4 districts of Quan Ba, Yen Minh, Meo Vac, Dong Van (Ha Giang Province), the 2,356km² - Dong Van Karst Plateau is one of Viet Nam's special limestone areas, housing prominent imprints that depict the development of the earth's crust. Up to 80% of the karst formations of Dong Van Plateau are limestone formed by environment conditions and different development stages of nature.

Geological value
A survey conducted by scientists from the Viet Nam Institute of Geosciences and Natural Resources revealed the finding of 13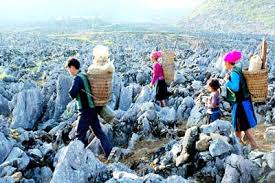 fossil - geological formations in Dong Van, including Chang Pung, Lut Xia, Si Ka, Bac Bun, Mia Le, Si Phai, Toc Tat, Lung Nam, Bac Son, Dong Dang, Song Hien, Hong Ngai, and Lan Pang. Of which, Chang Pung is the oldest one with date of 540 millions years.

In addition, 19 paleontology groups were also discovered in Dong Van, including Brachiopoda (Tay cuon), Tabulata (San ho vach day), Tetracoralla (San ho bon tia), Stromatoporoidea (Lo tang), Trilobita (Bo ba thuy), Polybranchiaspis liaojiaoshanensis (Ca co), Foraminifera (Trung lo), Tentaculies (Vo non), Conodonta (Rang non), Pelecypoda (Chan riu), Gastropoda (Chan bung), Cephalopoda (Chan dau), Bryozoans (Dong vat dang reu), Crinoidea (Hue bien), Sclerotesta (Vo cung), Ancient Crustacean (Giap xac co), Hydrilla verticillata (Thuc vat thuy sinh), Spirulina (Tao), and Chitinozoa. The paleontology groups have helped scientists draw a complete picture of development history in terms of geology of Dong Van Karst Plateau in particular and northeast Viet Nam and south China in general.

Geomorphology value
The tectonic activities created canyons in Dong Van Karst Plateau,particularly in limestone area. Among karst canyons in Dong Van, Tu San is the most beautiful and majestic canyon. From Ma Pi Leng Pass beside Tu San Canyon, tourists can observe the wonderful folds of Devonianlimestone.

Thanks to weather changes and Dong Van's geo-diversity, the karst evolution has created "rock gardens" and "rock forests" of diverse forms in the area, such as Khau Vai rock garden (Meo Vac) where tourist can contemplate the peaks of rocks in the shape of different kinds of flowers, Lung Pu rock garden (Meo Vac) with animal-shaped rocks such as tiger and dragon, Van Chai rock garden (Dong Van) with round flagstones arranged like thousands of black sea lions leaning one another getting some rest on the beach. However, found commonly here are ranges of mountains running one after another to form pyramids heading up to skies. A system of caves and grottos found in the Dong Van Plateau provides a proof of the evolution of karst with Rong Cave in Sang Tung (Dong Van), Kho My Cave in Tung Vai (Quan Ba), En Grotto in Van Chai (Dong Van)...

Ecological value
The scientists have also evaluated Dong Van Plateau as having a unique and diverse mountainous geo-ecosystem. Primitive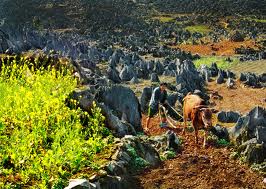 forests here have been rather undamaged, habiting many rare floral species, including Burretiodendron hsienmu (Nghien), Taxus Wallichiana Zucc (Thong do), Amentotaxus hatuyenensis (De tung soc nau), Cephalotaxus hainanensis (Dinh tung), Podocarpus pilgeri Foxw (Thong tre la ngan), Cupressus funebris (Hoang dan ru)… especially over 40 species of orchids. Dong Van Plateau also has a rich diversity of habitat for fauna as scientists have spotted over 50 species of wild animals, birds and reptiles in the site such as Capri conrnis sumatresis (Son duong), Rhinopithecus avunculus (Vooc mui hech), Sus cristatus (Lon rung), Garrulax canorus (Hoa mi)...

Cultural value
Dong Van Karst Plateau also contains unique cultural values of 17 ethnic minority groups such as Mong, Dao, Lo Lo, Tay, Nung… Since long time, the ethnic groups in Dong Van has had rich cultural and spiritual life. It is expressed clearly through the cultivation method in the small rock caves or mountain sides. They also use rocks to build houses; hold water and land… To Dong Van, tourists can see the rock gardens dotted with green corn fields and golden rice fields

In addition, highland markets as Pho Bang, Dong Van, Lung Cu, Sa Phin… together with traditional festivals, cuisine… also contribute making the picture of Dong Van Karst Plateau more attractive and lively.

Archaeological value
Archaeological excavations in Dong Van proved this is one of the places where keep traces of prehistoric culture.Archaeologists discovered 2 remains of the Paleolithic Age in Can Ty (Quan Ba) and Pho Bang (Dong Van) and 2 onesof the Neolithic Age in Bach Dich and Yen Minh Town (Yen Minh District). In addition, a pair of antique bronze drums ofLo Lo ethnic people in Dong Van is typical relic of Dong Son culture more than 2,000 years ago.

On October 3, 2010, in Lesvos (Greece), Dong Van Karst Plateau was recognized as official member of Global Geo-parks Network (GGN) for its prominent values on landscape, palaeobiology, geology, geomorphology and local culture. Dong Van Karst Plateau has become the first geo-park of Viet Nam and the second one in Southeast Asia (after Langkawi Geo-park in Malaysia).

SOME OUTSTANDING DESTINATIONS:
- Lung Cu Flag Tower in Lung Cu Commune, Dong Van District, about 20km from Dong Van Town to the north.
- Ma Pi Leng Pass – Tu San Canyon in 3 communes of Pai Lung, Pa Vi and Xin Cai (Meo Vac District).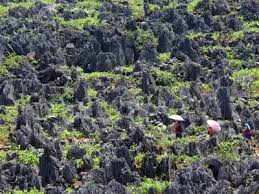 - Khau Vai Rock Garden in Khau Vai Commune, Meo Vac District, about 15km from Meo Vac Town to the southeast.
- Kho My Cave in Kho My Hamlet, Tung Vai Commune, Quan Ba District, about 20km from Tam Son Town to the west.
- Vuong Family Palace in Sa Phin Valley, Sa Phin Commune, Dong Van District, about 24km from Dong Van Town to the southwest.
- Lung Cam Tren Culture – Tourism Village in Sung La Valley, Sung La Commune, Dong Van District, about 20km from Dong Van Town to the south.
- Khau Vai Love Market in Khau Vai Hamlet, Khau Vai Commune, Meo Vac District, about 30km from Meo Vac Town to the south.
- Quan Ba Twin Mountain in Na Khoang Hamlet, Tam Son Town, Quan Ba District, about 7km from Tam Son Town to the south.
- Dong Van Ancient Quarter in Dong Van Town, Dong Van District.
USEFUL INFORMATION
Specialties: On the market-day on Sunday (Dong Van, Meo Vac fairs...) visitors can enjoy dishes such as men men(steamed ground corn), color steamed glutinous rice, corn bread, chicken, dried beef, Meo colza, bamboo shoots,thang co (a special local soup), smoked bacon and sausages, corn liquor...
Souvenirs: Visitors can buy traditional products such as brocade, linen, jewelry,... in the cultural villages, traditional craft villages, attractions, fairs ... on the karst plateau.
Climate
The climate is divided in two distinct seasons, rainy season (from May to October) and dry season (from November to April). The annual average temperature varies between 24 and 28oC. In winter, the temperature is sometimes down to -5oC. The best time to visit Dong Van is the spring. Tourists are hit by wonderful landscapes composed by yellow cai (kale) flowers and pink peach flowers in full blossom, mossy tiled roofs of stilt houses, dark green rocks and blue skies.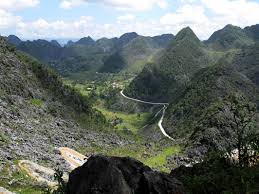 How to get the karst plateau
From Ha Giang City, visitors travel on National Highway 4C for 43km to Quan Ba. Continuing on this highway through Can Ty Pass, pine forests, steep drops, deep ravines, and razor sharp turns, visitors will reach to Dong Van karst plateau.